Access
| | | | | | | | |
| --- | --- | --- | --- | --- | --- | --- | --- |
| From : |   | | | | | | |
| Ha Noi : | 270 km | 7h | 9h | 10h | - | - | - |
| Ha Giang : | 200 km | 5h | 7h | 8h | - | - | - |
| Ba Be : | 180 km | 3h30 | 5h | 6h | - | - | - |
| Lang Son : | 180 km | 3h30 | 5h | 6h | - | - | - |

Geographic location
Located East from the Province of Ha Giang, Cao Bang is also part of the China bordering provinces and, for that reason, pretty difficult of access. The rural scenery is particularly beautiful during the rice transplanting and harvesting when the ethnicities in their traditional outfits are getting busy in the fields. You can also visit the local markets of the Thay, Nung, H'Mong, Dao and Lolo people.

Must-see and must-do activities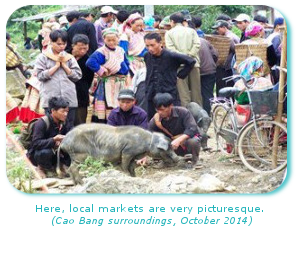 The numerous lakes (the 36 lakes of Thang Hen), the waterfalls (Ban Gioc) and the cascades, the caves (Nguom Ngao) and the karst needles of Cao Bang made those landscapes one of the richest of the province. You can discover them either by foot during treks or by boat and rafts!
Furthermore, you should go to the market for a total immersion in the minorities' culture: the most important of them are the Trung Khanh, Tra Linh, Nuoc Hai and Na Giang people.
Finally, Cao Bang has historically been Ho Chi Minh's hideout during the war where he created the Viet-Minh and from where he commanded his troops. Museums are dedicated to him and you will also learn about the cave where he used to live.

How long should I stay?
Once again it all depends on what you want to do and discover. However, I would advise you not to stay too long in the province. Two days seem satisfactory in order to contemplate the scenery, to walk around and to go to a typical market.

Accommodations
Accommodations in the province are better developed than in Ha Giang. You can choose between a hostel and a comfortable hotel in urban area. Staying over inhabitants' houses can be organized in rural areas.
Luân's opinion
A lot of similarities with the Province of Ha Giang… Landscapes are a little less spectacular maybe, but there are more sites with tourist interest, from the biggest waterfalls of Viet Nam to the Pac Bo cave.