Access
| | | | | | | | |
| --- | --- | --- | --- | --- | --- | --- | --- |
| From : |   | | | | | | |
| Ha Noi : | 80 km | 1h45 | 2h30 | 2h30 | - | - | - |
| Ninh Binh : | 30 km | 45 mn | 1h | 1h | - | - | - |
| Mai Chau : | 100 km | 2h | 3h | 3h | - | - | - |
Geographic location
Cuc Phuong is the biggest national park of Viet Nam! Not less than 25 000 hectares of primeval tropical forests (considered as the last ones on Earth!), halfway between the 3 provinces of Ninh Binh, Hoa Binh and Thanh Hoa. It is thus a very well protected area where we can still discover species that we thought were extinct… The park is crossed by the new Ho Chi Minh road allowing an easy crossing. The Center of the park is the departure point for treks and is located 18km away from the entrance.

Must-see and must-do activities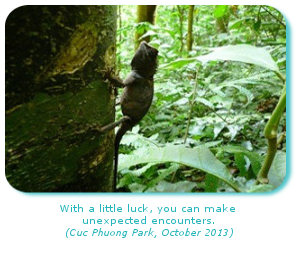 Not much apart from walking around in nature and contemplate the dense vegetation including more than 2000 species of plants and trees and over 2000 different types of flowers! And with a little luck, you may come across one of the 250 species of animals, mammals, birds…or reptiles! Different tracks are proposed, the shortest one is 8km long.
There, you can see thousand-year-old trees (and yes, it is impressive!), or even the Cho Chi tree, unique in the World.
It is also possible for you to visit some Muong villages established in the Park, the Khanh village in particular.
Finally, at the entrance, I would advise you to stop at the Help Center for the endangered primates. A project was built in 1995 between Vietnamese and German researchers which goal is to increase the number of monkeys on the Vietnamese territory. In this way, over 20 species are preserved and can be visited.
How long should I stay?
If you are leaving from Ninh Binh, a one day visit can be planned, but I would still advise you to sleep in the Park!
Accommodations
Bungalows in the park (rudimentary comfort).
Luân's opinion
For nature lovers, this place is unavoidable!