Direct consequence of its geographic location, Viet Nam is under a tropical and subtropical climate, including heavy periods of heat and other periods of monsoon. However, talking about the "general" climate of the country is absurd, regarding their significant contrasts; between the Northern mountains and the Mekong delta in the South for example.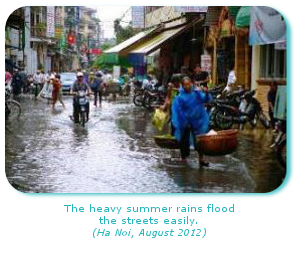 In the North, the period between November and April is rather cool and humid. The greyness settles down until February – March. Although the average temperatures are around 16 degrees Celsius, it is not uncommon to meet frost in high altitude. Then, the temperatures rise until mid-August, reaching sometimes 35 to 40 degrees Celsius with over 90% of humidity in the air!
Violent storms accompanied by torrential rain can make touring a little less comfortable. However, it is important to note that it does not rain all day long but only a few hours in late afternoons or evenings, the rest of the day remains mostly sunny.
In the Middle Part, the climate is intermediary. Rains are better spread throughout the year and more abundant than anywhere else, with a national record for Hue in Autumn. On the highlands, the temperatures are cooler (under 26 degrees C), even cold during winter from October to March. It is then not uncommon to go under 4 degrees Celsius.
In the South, no matter the season, the temperatures change little, permanently approaching 30 degrees C, with maximum temperatures climbing up to 35 degrees. The raining season starts at the end of June and ends at the end of September, whereas the dry season goes from December to April.
The ideal periods in terms of climate are in my opinion the months of April – May and October – November. But those are also the most touristic seasons!!!