Access
| | | | | | | | |
| --- | --- | --- | --- | --- | --- | --- | --- |
| From : |   | | | | | | |
| Ha Noi : | 60 km | 2h | 3h | 3h | - | - | - |
| Mai Chau : | 130 km | 3h | 4h | 5h | - | - | - |

Geographic location
Located South from Ha Noi, the Province of Ninh Binh is the most Southern spot of the highland of karst rocks of South East Asia… It is also the terrestrial spot where the rocks are the most impressive in Viet Nam, which gives the name of the ''Terrestrial Ha Long Bay''.

Must-see and must-do activities
First of all there is Tam Coc, a site where small rivers weave in the middle of karst rocks and rice fields. It is the most popular spot of this area, where you can travel by small boats… You can visit the Bich Dong cave there.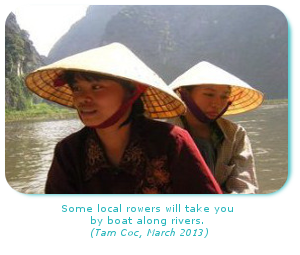 Hoa Lu is the former capital of Viet Nam; its two temples are dedicated to the first emperors Dinh and Le.
The village named ''Kenh Ga'' on the riverbank is also worth the detour. The word ''Kenh Ga'', meaning ''the chicken canal'' takes its name from its numerous curves, similar to the race of a chicken running away…You can visit it by boat, with the particularity that small boats are made of concrete in that ward!
A little bit further, the Phat Diem cathedral is a unique place in the World… This massive edifice which pillars and framework are made of wood mixes Western Christianity and Asian art.
Finally, the region is made of a multitude of small paths where driving a bicycle around is simply enjoyable...
How long should I stay?
One day is enough for a good overview but it takes two days if you want to visit the region better, to drive a bicycle around or to visit the Phat Diem cathedral.
Accommodations
The town of Ninh Binh will accommodate you in all types of hotels, but does not present any charm or interest in my opinion. Rather chose small charming hotels, such as the one in front of the quay of Tam Coc.
Luân's opinion
The terrestrial Ha Long Bay is often criticized for it is very touristic, and it is true, small boats do follow each other along the river… I would then advise you to leave the night before, or to get there directly when coming back from the Ha Long Bay (from Hai Phong), in order to sleep on site and to visit Tam Coc early in the morning before the buses from Ha Noi arrive! It would be unfortunate to miss such a nice site…