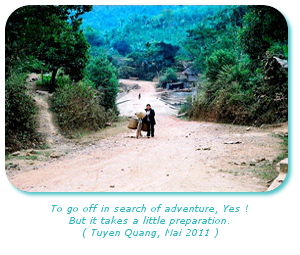 Before your departure
The first step HAPPY LUAN take is to contact you, to get to know you better and to understand the things you are looking for and the things you are not. There is no secret, in order for a circuit trip to be successful; we need to build it together. That is the reason why communication is indispensable.
In that sense, the Internet is an extraordinary tool, a way to erase the kilometers and to bring closer together the people from all countries and cultures. In order to ensure an efficient communication, I promise to answer you in the shortest period of time.
Once arrived in Viet Nam
In order to minimize my operating structure costs (and effectively therefore your trip costs), HAPPY LUAN is directly established at my home. That is why I usually come out to meet you either at your hotels or around a café in the old quarter of Hanoi… I know that home service is highly appreciated!
That being said, my door is always wide open… Do not hesitate to come around and meet us!