Access
| | | | | | | | |
| --- | --- | --- | --- | --- | --- | --- | --- |
| From : |   | | | | | | |
| Ha Noi : | 300 km | 6h | 8h | 8h | - | - | - |
| Hoa Binh | 230 km | 4h30 | 5h | 6h | - | - | - |
| Dien Bien Phu : | 200 km | 4h | 5h | 6h | - | - | - |
| Lai Chau : | 170 km | 3h30 | 4h30 | 6h | - | - | - |
Geographic location
About 2/3rd of the way between Ha Noi and Dien Bien Phu, Son La is a stage town in the deep of a valley. As a true urban center, Son La introduces all its characteristic, advantages and inconveniences, which is not extraordinary. Some ethnicities are largely represented, such as the Black and White Thais, the H'Mongs and some Muongs. In that aspect, markets are excellent locations for encounters.
Must-see and must-do activities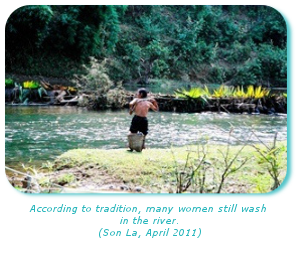 The different points of view from the mountains surrounding Son La are of rare beauty during nice weather. Moreover, a rendez-vous is given to the Pha Dinh pass (2000m in altitude), 45km away from the road of Dien Bien Phu and Lai Chau!
The Khau Ca hill still holds on its top the relics of the French prison established in 1908 where the Viet-Minh rebels were imprisoned. It is open to visit, all the more so since the site offers a stunning view of the city downhill.

How long should I stay?
The convenience about Son La is that it is located on the road of Lai Chau and Dien Bien Phu from Ha Noi, thus constituting an excellent stop stage for the night.

Accommodations
All accommodations are offered in Son La, from the Nha Nghi – a Vietnamese hostel – to the comfortable 3 star hotels. There are no luxury housings nor can you sleep over inhabitants' houses.

Luân's opinion
Like a lot of cities where there is not much to do, it is often pleasant to walk around for a few hours in order to discover an authentic Viet Nam and a very nice market.