Access
| | | | | | | | |
| --- | --- | --- | --- | --- | --- | --- | --- |
| From : |   | | | | | | |
| Rach Gia: | - | - | - | - | - | - | 2h30 |
| Sai Gon : | - | - | - | - | - | 50 mn | - |
| Ha Long : | - | - | - | - | - | 2h | - |


Geographic location
Phu Quoc Island, located South-West from the Mekong Delta, has always been an object of discord between Cambodia and Viet Nam, arguing over its ownership. This heavenly island (dry season from November to June) is famous for its sublime white sand beaches surrounding a luxurious mountainous park. Spreading over 48km long, Phu Quoc makes a living out of its pepper, its nuoc mam and of its tourism activity.

  Must-see and must-do activities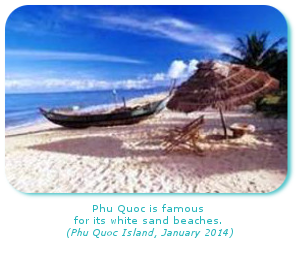 The island enjoys its weather and its tropical localization to attract a great number of visitors in need of sunlight during winter. The activities offered on the island go from snorkeling to forest treks in the national park, boat trips and…lazing about on the sunny beaches!

How long should I stay?
Phu Quoc may be a heaven for those seeking peaceful, sunny and restful vacations. However, for the more energetic visitors, treks can leave you dissatisfied…The number of days is thus to be set freely, according to your tastes and wishes. A staying 2 to 5 days seems rather fitted.

Accommodations
Numerous resorts have been built on the island and will be able to satisfy your accommodating wishes. Most of the luxury hotels have prices that can seem rather excessive sometimes…
Luân's opinion
Hurry up and go there before there are too many constructions!!!