Access
| | | | | | | | |
| --- | --- | --- | --- | --- | --- | --- | --- |
| From : |   | | | | | | |
| Ha Noi : | 220 km | 5h | 6h | 7h | - | - | - |
| Thay Nguyen  : | 120 km | 2h30 | 3h30 | 4h30 | - | - | - |
| Cao Bang : | 180 km | 3h30 | 5h | 6h | - | - | - |
| Ha Giang : | 360 km | 7h | 8h | 9h | - | - | - |

Geographic location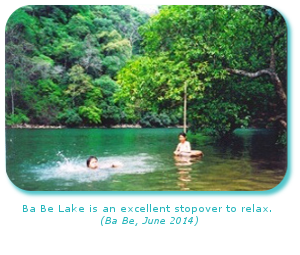 The natural park of Ba Be is one of the most peaceful and most enjoyable places in Viet Nam. Located at 145m in altitude in the Province of Bac Kan, it gathers on its 7000 hectares a multitude of cascades, valleys, lakes and caves, surrounded by mountain peaks culminating at 1500m and by valleys where the tropical forest remains most impenetrable.
Ba Be means ''the three bays'', the park is made of three lakes linked among them and measuring 8km long, 400m wide and 35m deep, surrounding with their stems the ''islet of the widow''. All around the lakes sit stilts houses with thatch roofs from the Thay ethnicity living there.
Must-see and must-do activities
Many excursions on water are offered in Ba Be, you can go beyond waterfalls, in caves with surprising colors and its thousands bats… Don't forget to bring your swimsuit! Swimming and sunbathing are also part of the program!
You can also walk around in forests with treks from one day to more. The tropical forest is dense and shelters unsuspected resources in terms of animal and vegetal biodiversity. Although the numerous species of mammals are hard to see, you will have no difficulty to notice bugs, flowers and even some invertebrates going around easily in this world of theirs!

How long should I stay?
Given the traveling time to get to Ba Be, I would advise you to stay there at least three days and two nights. You will then have all the time to rest, to meet the Thay peoples on site, or to do activities…and all of that in a peaceful and quiet atmosphere!

Accommodations
A very long time ago I had the opportunity to meet Mr Tho on the day I arrived at Ba Be for the first time. Ever since, our friendship has never failed and all the persons who visited him won't tire of praising his warm welcome, his availability and his sense of humor…Even though he only speaks Vietnamese and a few words of English! Mr Tho and his family, from the ethnicity of the Black Thay, will directly welcome you into their home, in their traditional stilts house where he provides three niches around the central room made of a double bed. Hot showers and electricity will allow a pleasant and restful stay.

Luân's opinion
The Ba Be lake remains one of the best memories of the people who left with HAPPY LUAN, for the quietness of the place as well as for Mr Tho and his family's welcome.