Access
| | | | | | | | |
| --- | --- | --- | --- | --- | --- | --- | --- |
| From : |   | | | | | | |
| Nha Trang : | 250 km | 5h | 6h | 7h | - | - | - |
| Sai Gon : | 350 km | 7h | 8h | 9h | - | 50 mn | - |

Geographic location
Da Lat means ''the river that belongs to the Lat tribe''. Rich with 33 ethnic minorities, which represents over 5000 inhabitants, the ''City of Eternal Spring'' is one of the most enjoyable of Viet Nam due to its climate (15 to 24 degrees Celsius permanently) and its harmony to nature. Indeed, Da Lat is surrounded by lakes, waterfalls, gardens and forests. Quite Europeanized, the city lives essentially on its vegetable and horticultural productions (hydrangea) and from tourism.

Must-see and must-do activities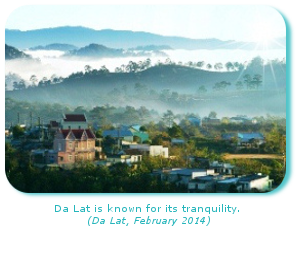 Walks and treks lovers will be the happiest ones in Da Lat. Numerous treks are offered more or less out of town. You will then be able to make pedal boat on the Xuan Huong Lake or to walk all around it, in the middle of botanical gardens and French architectural houses. A little bit further, you will be able to get to the ''sighs lake'', to the Tiger or Datania waterfalls…
Prenez également le train à crémaillère pour vous rendre à la magnifique pagode Linh Phuoc.
You can also take the rack railways to get to the magnificent Linh Phuoc Pagoda. Or rather the one of Lam Ty Ni, more flowered and more decorated thanks to the works of M. Thuc!
Numerous artists have settled in Da Lat and as many museums have opened their doors in order to exhibit these Vietnamese creations. Others gather Chams relics founded during archeological excavations. Finally, the craftsmanship of ethnic minorities is of the richest, like the one of the Lat people producing dyed fibers mats and folding baskets, or also the one of the Koho and Chill people's baskets and hand-woven clothing.
How long should I stay?
Da Lat is particularly interesting for the gathering of ethnicities and for the climate prevailing there, but the city remains terribly disappointing by its lack of authenticity and the touristic flood to the site. Although the inland region is of the most diversify and beautiful, I would advise you a rather short staying and better oriented on visiting traditional villages in the surroundings of Da Lat.

Accommodations
Tourism being one of the main sources of income of Da Lat, all types of accommodations are implanted, from the ''small budget'' hotel to the comfort and luxury of some resorts.
Luân's opinion
Da Lat is often called the ''little Sapa''… Naturally, it all depends on the length of your staying, but Sapa has priority in my opinion for it is more impressive, both in terms of scenery and ethnicities…