Between ingenuity and aesthetic, raw material dump and noble material, Vietnamese craftsmanship is to be found in a variety of forms in both rural and urban markets. Influenced by Chinese and Mandarin culture on one hand; and by ancestral and Buddhist tradition on the other hand, popular and artistic craftsmanship mix in order to form a very singular cultural heritage of the country.
Pottery and ceramics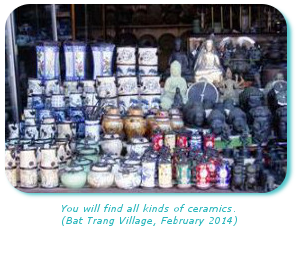 Made from clay of excellent quality, extracted from the Red River delta, potteries from North Viet Nam can be either enameled (like in Phu Lang, Huong Canh. Tho Ha) or not enameled like in Nghe and Cao: it all depends on the oven temperature!
In Bat Trang village, located in the immediate periphery of Ha Noi, as well as in Bien Hoa, we can witness the creation of ceramics and decorated pottery. The main color is blue, made with blue-cobalt, a long left influence from Chinese colonialism
Lacquers
The lacquer is actually a resin from the Cau Son's tree which is applied in several layers on bamboo or wooden objects. Once again coming from China, this craftsmanship's main goal was to weatherproof the most porous materials, to protect them from humidity and insects. There are traditionally three colors: black and brown both natural as well as red, color obtained after hematite addition.
Paper and prints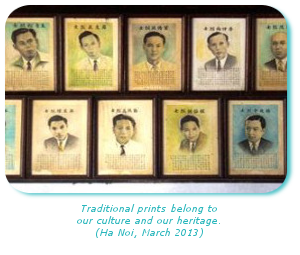 Many objects are still made by paper in Vietnam, from toys and puppets to the objects of worship that is burned on the altar of the ancestors or pagodas. Often, these are money notes reproductions, clothes or ways of transport.
Paper and prints are also the memory of Vietnam. The prints are some sheets of paper soaked with ink that will copy and steles carved wooden boards that were used to reproduce the works and sacred texts woodcut, ancestor of printing.
Bamboo
Bamboo is ubiquitous in the environment in Vietnam ... but also in everyday life. Ease of implantation, growth speed, quality of the material and multi-purpose plants: these are the keys to success of bamboo!
We value the roots for example, that we taste boiled during meals or as we soak in a hot sauce to liven up some of our dishes. Leaves, in turn, are used both for feeding our cows and buffaloes, and also an excellent cooking fuel!
The hollow rods are partitioned by walls exceptional rigidity. buy Nexium Bamboo is a more resistant material (unbreakable) and waterproof, allowing us to make glasses, bowls or water pipes. The floor stilt houses are typically made from bamboo segments, some partitions are woven of the fibers, as the mats that is unfolded on the floor.
Weaving and

silk painting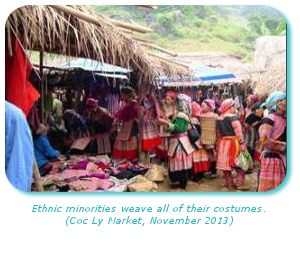 Last Art of this list and yet not least, weaving silk remains a traditional art of Vietnam. Silk is actually the result of an insect, the silkworm, which amounts to its cocoons. They are made from a wire, wound on itself, the weavers will loose and spinning for the manufacture of fabrics.
We appreciate Silk for its softness and durability, making it a popular fabric. The traditional Ao Dai dress is also cut in the fabric. The fabrics can be adorned with embroidery or beads, but can also do printing or patterns when weaving.