Access
| | | | | | | | |
| --- | --- | --- | --- | --- | --- | --- | --- |
| From : |   | | | | | | |
| Nha Trang : | 260 km | 5h | 6h | 7h | - | - | - |
| Da Lat : | 250 km | 5h | 6h | 7h | - | - | - |
| Sai Gon : | 210 km | 4h | 5h | 6h | 5h | - | - |

Geographic location
A small fishermen village, bathed by turquoise waters from the South China Sea, surrounded by thin white sand, quiet and peaceful… does it sound tempting to you? In that case, Mui Ne is the ideal destination! Located South from Nha Trang and while not enjoying the same popularity than its ''big sister'', Mui Ne will know how to surprise you for its authenticity…even though the this place is rapidly developing (hurry!).
Must-see and must-do activities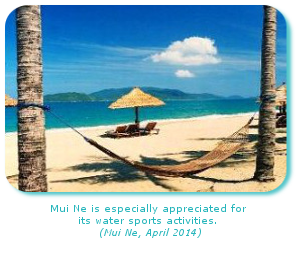 Although the city isn't historically or architecturally rich, it is possible to visit some ancient houses and to go on a traditional bark for a fishing demonstration accompanied by an inhabitant of the village. However, Mui Ne is best known for its orange-sand high dunes overlooking the bay.
From June to October, the waves lend themselves readily to the surfers' and windsurfers' dance but not suitable for diving. Very recently, kite surfing has developed in Mui Ne, making the happiness of thousands of sportspersons…
How long should I stay?
Mui Ne is a rather particular destination, linked to the development of water sports. You will find there the Vietnamese youths and other tourists full of excitement. The visit of the site can be made in one day or more according to your wishes…
Accommodations
Numerous resorts have been built in Mui Ne in order to satisfy the growing demand from tourists and Ho Chi Minh's city dwellers. Their prices can vary according to their services but they remain largely affordable. Some of them enjoy from an excellent view on the harbor.
Luân's opinion
The biggest problem of Mui Ne lies in its more difficult access: no airports and an obligation to make a detour in bus for those traveling from the Middle Part to the South!