Access
| | | | | | | | |
| --- | --- | --- | --- | --- | --- | --- | --- |
| From : |   | | | | | | |
| Lai Chau : | 170 km | 3h30 | 4h | 5h | - | - | - |
| Lao Cai : | 35 km | 1h | 1h30 | 2h | - | - | - |
| Ha Noi : | 350 km | 7h | 9h | 9h | - | - | - |
| Lao Cai / Ha Noi : | 315 km | 6h | 8h | 8h | 10h | - | - |
Geographic location
Perched on mountainside at 1650m in altitude near the Chinese border, Sapa is the principal touristic location of the North-West of Viet Nam, especially in terms of scenery beauty (steep-sided valleys, rice field terraces…). Former restorative climate (1922), it mostly shelters the ethnic minorities such as the red Daos and the Black H'Mongs people. The weather there is very cold during winter but temperate during summer, which is very pleasant! Sapa is also surrounded by numerous small villages where different ethnicities can meet such as the flower H'Mongs, the green Daos, some Thay and also Nung people…
Must-see and must-do activities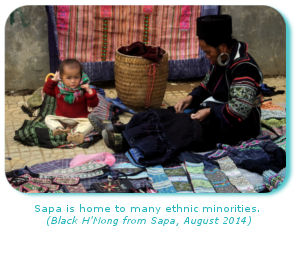 Local markets really do worth the detour in those mountainous regions. Apart from buying local products of craftsmanship, they also allow to encounter the ethnicities in a festival of colors. Beware however; the market is only weekly, it is necessary to plan your trip to Sapa in order to attend it! The Bac ha market gathers the flower H'Mong ethnicity and is held on Sundays, the Coc Ly market on Tuesdays allows to encounter the Phu La, Nung and Tay people and the Can Chau market is held on Saturdays.
Numerous of villages in walking distance from Sapa are very nice places for promenades, you could also sleep over the inhabitants' place in traditional houses: this is the ideal combining beautiful scenery and the understanding of the local minorities' culture.
Climbing the Fan Si Pan Mount and few hours or few days treks are possible for the most sportive of you, with local guides most of the time coming from ethnic minorities who can speak English and sometimes French as well. It is a beautiful trek to do when the fog is down.
Finally, the natural reserve of Nui Hoang Lien in the South East of Sapa, introduces on 30km², around 56 different species of mammals, 17 of which are threatened (leopards, panthers…), as well as a very rich flora.

How long should I stay?
I would advise you to stay at least three days in Sapa, so that you could do a two-day trek to the closest villages as well as attending another market than Sapa's. For the fittest of you, climbing the Fan Si Pan Mount usually takes 4 days, and longer treks are also available going from 3 to 7 days.

Accommodations
In Sapa itself, all types of accommodation are offered, from the cheap one to the luxurious one. Some of them offer stunning view of the Fan Si Pan and of cultivated valleys. For the several day treks, staying over inhabitants' houses is becoming more and more common.

Luân's opinion
Staying in Sapa itself can be quite stifling because of the numerous tourists and the oppressing H'Mong sellers… However the surrounding villages are in my opinion, one of the spots not to be missed!