The simplest way to get to Viet Nam from France remains air flights. However, other means more original also allow to reach Ha Noi and Ho Chi Minh, by rail or by sea.
Numerous airline companies operate from the airports of Hanoi and of Ho Chi Minh City. Be careful however: the ''quality-price ratio'' is not the same everywhere!
Remember to check your halts: how many of them, where, and the waiting time! In this way, only Viet Nam Airlines offers a direct flight from Paris (Roissy – Charles de Gaule) to Ha Noi or Sai Gon. Moreover, it is possible to arrive in Ha Noi and leave for Sai Gon as well as the other way around…which can be very interesting to visit the whole Country.
For best prices, I would advise you to book your flight a few months in advance. You can either directly address airlines companies or ask travel agencies, who can often find interesting prices. Finally, you can also think about online travel agencies! For want of buying your electronic ticket, you can at least check the prices charged during the asked period…
Regarding Airlines companies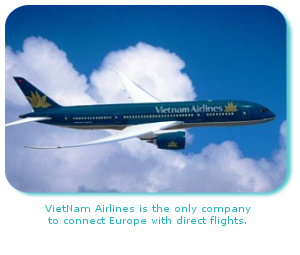 Viêt Nam Airlines : www.Vietnamairlines.com ; 01 44 55 39 90
The only company to operate real direct flights to Viet Nam. Consequently, it's rather expensive but the services on board are flawless.
Air France : www.airfrance.fr ; 0820 820 820
A technical 2 hour transit in Bangkok. It is one of the most expensive companies, but has its followers and thus is unavoidable on my list.
Thai Airways : www.thaiairways.fr ; 01 44 20 70 80
Maybe my favorite company in terms of quality / price ratio… A halt of 2 hours in Bangkok, so almost on the way. Reasonable price, excellent on board services…
Malaysia Airlines : 01 44 51 64 20
A halt in Kuala Lumpur (Malaysia). This company offers lower prices than the others but the waiting in Kuala Lumpur can be long (up to 5 hours!)
Be careful, numerous of punctual promotions are out there, and depending on the seasons, other companies can be considered: Cathay Pacific (a halt in Honk Kong), Singapore Airlines (a halt in Singapore), Eva Air (a halt in Taipei), Aeroflot (a halt in Moscow), Qatar Airlines (a halt in Doha),…
Some agencies and online price comparer on the Internet can also help you to make your choice, or even to book and pay online and help you in your choice: Kelkoo, Opodo, Avion.fr, Billet moins cher, Voyager moins cher,… The list can get longer with a Google or Yahoo search…