Access (Ha Long City)
| | | | | | | | |
| --- | --- | --- | --- | --- | --- | --- | --- |
| From : |   | | | | | | |
| Ha Noi : | 160 km | 3h30 | 5h | 5h | - | - | - |
| Mong Cai : | 170 km | 3h30 | 5h30 | 6h | - | - | - |
Geographic location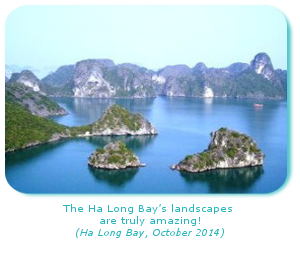 The Ha Long Bay, mythical place in Viet Nam, is a vast lagoon made of thousands of limestone pitons emerging from the water as if by magic. Some are covered by the forest, others present strange shapes, and some shelter caves… Day after day they have to face erosion even if the water is most quiet and as flat as an oil sea. Here and there, several thin sand beaches emerge from the waters in low tied. The Bay is inhabited by floating villages; these houses resting upon empty cans and under which are bred all sorts of fishes and mollusks. Perfect spot of calm and peacefulness, the Ha Long Bay is integral part of the UNESCO world heritage.
The Bay is accessible either by the city of Ha Long or by the Cat Ba Island. I would highly advise you option number two…Option one being extremely touristic and only offering ''classic'' tours… I myself have ceased to work from Ha Long departure, the cruise companies not being serious enough…They care little about the client and are always full!

Must-sees and must-do activities
The Bay offers a variety of activities: Kayak, swimming, cave exploration, visits of islets and islands… Some corners are only accessible on a small boat, slaloming between the karst peaks. No need to mention the beauty of sunrises and sunsets…
You have specific wishes about the activities you want to do and the ones you don't? You can see with my partner and friend M. Lieu in Cat Ba, he will be able to advise you and will direct you towards a highly customized tour circuit.
On a sunny day as well as on a foggy day, the Bay will enchant you the same way it seduced me a few years back…

How long should I stay?
2 or 3 days is usually how long it takes when staying in Ha Long Bay.

Type of hospitality
The night on the cruise is always in a private cabin on a junk where only the crew accompanies you in order to steer the vessel and cook the meals. Night sleeping under the stars on the deck of the ship is quite magical.

Luân's opinion
I would specially advise you a three days and two-night tour; one night on the boat and the other one is up to you: floating bungalow, beach camp, traditional house in the village of Viet Hai or even a hotel on the Cat Ba Island.