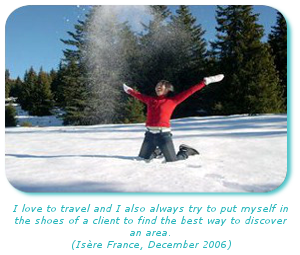 I try as much as I can to put myself in my customer's shoes. I, myself, had the opportunity to travel around Asia and Europe, and I think I can understand the mix feelings between fascination, enthusiasm and sometimes awkwardness that we can experience when we discover a foreign country.
With HAPPY LUAN, I have the desire to come as close as possible to my customers and their expectations in terms of housing, transportation, activities, well-being and satisfaction!
I am aware that each one of us has different desires, ways of functioning and spending budgets. That is the reason why I offer you a range of services going from simple advices to a fully organized trip.
The ''tailor-made'' approach is my only goal: providing you with a circuit tour adapted to your desires and to your budget; a discovery trip of Viet Nam, in the respect of cultures, local people and their way of life. And no need for tour guide for that! You will be in the company of my local contacts when their presence is required such as museum visits or trekking, but in order to ''encounter'' with Viet Nam, no need for a middleman! Gazing, sharing, understanding and being amazed, those are the key words to a successful journey.
A problem on site? A change of schedule? Specific wishes? From the day you arrive until the day you're leaving, day by day I will be in touch with you over the phone so that you would be entirely satisfy of your trip.
Contact us, ask us, and we will take care of everything! Hotel bookings, tour guides, plane tickets, car rentals, conference rooms etc.