Access from Sai Gon
| | | | | | | | |
| --- | --- | --- | --- | --- | --- | --- | --- |
|   |   | | | | | | |
| My Tho : | 70 km | 2h | 2h | 2h30 | - | - | - |
| Cai Be : | 130 km | 2h30 | 3h | 4h | - | - | - |
| Vinh Long : | 140 km | 2h30 | 3h | 4h | - | - | - |
| Can Tho : | 250 km | 5h | 6h | 7h | - | 50 mn | - |
Geographic location
The Mekong, coming from Cambodia, spreads in 9 large rivers all along South Viet Nam, thus forming a delta on over 100 kilometers. This latter is fertile and is the biggest rice production of the Country…The lands are humid and flooded each year giving a luxury and diversified vegetation…

Must-see and must-do activities
The Delta is big and can be visited through different sites. Every time the principle is the same, the idea is to rent a boat to go along the river, the canals, to visit islands, to discover local life and least but not last…to pass through the floating markets.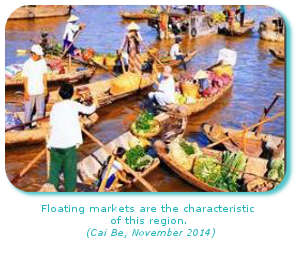 My Tho is the closest departure visiting spot of Sai Gon, within only two hours from the big city. Naturally, urban proximity does not go along with authenticity, and it is better in my opinion to visit the delta through further, more authentic and more beautiful places: Cai Be, Vinh Long, Can Tho…
Can Thoi is a big town that I found very nice… A student town, animated and not too big either…ideal to spend the evening! Moreover, it has a beautiful Khmer pagoda, a must-see for civilizations enthusiasts.
Many literature enthusiasts wish to get to Sa Dec, city where Marguerite DURAS has spent her childhood and has inspired her novels, in particular ''The Lover''… They will certainly be disappointed as nothing can be visited in this rather lost and not so pretty city …but well known for its flowers culture.

How long should I stay?
The delta is large, so in order to enjoy it, 2-3 days should be planned from Sai Gon.

Accommodations
All types of accommodation.

Luân's opinion
Le delta est pour moi un Joyau naturel au Viet Nam… Incontournable donc, aussi bien pour ses paysages, sa végétation que ses marchés ! Il vaut à lui seul un passage dans le Sud du Pays.