My name is Nguyen Thi Luan, or rather Luân JAN since my wedding with Thomas. Our home got bigger with both the births of our little Line, in 2006 and of Tim in 2008. Thomas is French… well, Breton to be more accurate! He (has) worked during 12 years in NGOs for underprivileged childhood before opening international kindergartens in Hanoi. We first met… in Halong bay! And ever since, we live our cultural differences on a daily basis, which is very enriching / rewarding since we have so much to learn from each other.
I am native of Hung Yen, an Eastward province located 80 km away from Hanoi, in the delta of the Red River. I grew up in a rural area with my parents and my three brothers. I am the youngest. Like most Vietnamese people living outside of the cities, my parents are farmers. They cultivate rice, vegetables, corn and breed pigs and chickens.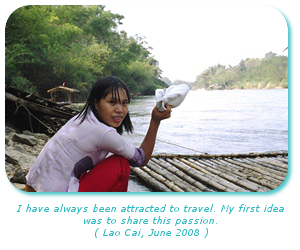 I graduated high school at the age of 17 and wished to continue my studies in Hanoi in the tourism sector. But, beforehand, I needed to work in order to pay for financially support my dream… I became a local tour guide in Sapa, the tourist capital of Northwest Viet Nam. I worked as such for two years and a half before joining the management staff team of a hotel. Mixing with so many different cultures at my age, on one side the ethnic minorities (the 'black' and 'flower' H'Mongs, the red Dao, …) and on the other tourists coming from all over the world really has confirmed my professional / career orientation.
Four years passed in Sapa, enough for me to gather the necessary sum of money in order to take my B.T.S in Tourism examin Ha Noi. Indeed, I did this two years degree as a sandwich course which also allowed me to discover other destinations in Viet Nam, such as the Ha Long Bay, the middle part of the country and its highlands, or the Mekong Delta region. I also learned how to manage an agency and put into practice the theories acquired right after the end of my studies for one of the most important ''tour operators'' in Ha Noi for/during two years and a half.
Since I could not change the business ethic of those ''tourists industries'', I decided to open my own agency: HAPPY LUAN - Viêt Nam Travel Agency, created on the 2nd of January 2007.