How to get there
By car only.
Geographic location
The crafts villages are located near Ha Noi, all around the city, between 5 and 40 kilometers. It's then a one day trip.
Must-see and must-do activities
You will find mentioned in tourist guide books several craft villages such as Bat Trang for the ceramic or Vinh Phuc (Ha Dong) for the silk. Unfortunately, these villages became, to me, real tourist factories losing a lot of their yesteryear charm and authenticity.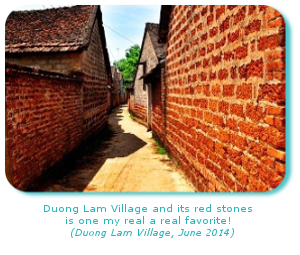 I would then advise you to go further away from Ha Noi and to discover other craft villages better preserved where you can discover the craftsmanship techniques in all serenity. In the long list of villages, I particularly like Duyen Thai for the lacquer, Dong Ho for the paintings or Hien Vien for the ceramics.
However my favorite is the village of Duong Lam which is not a craft village but a traditional village. I still don't understand to this day why this village is so unknown (even the Vietnamese people haven't heard of it), because this magnificent place has centenary trees, 300 year-old traditional houses and a beautiful pagoda. A simply stunning place…
In my opinion, the ideal would be to associate visits to craft villages and visits to nice pagodas around Ha Noi. I will only mention a few that particularly grabbed my attention: the Master Pagoda (Chua Tay), the Tower and Brush Pagoda (Chua But Tap), the Temple of Co Loa or the West Pagoda (Chua Tay Phuong).
Finally, a last interesting alternative to discover the richness of the Country is to visit the antique dealers of Ha Noi for half a day with a tour guide, in order to better understand the Vietnamese culture throughout bric-a-brac shops and art collections.
How long should I stay?
It all depends on your taste of course for that type of visit. Programing a field trip to a craft village or a traditional village is very interesting in terms of discovery…For the craftsmanship aficionados, 3 other field trips can be easily organized.

Accommodations
No referenced accommodations because I would advise you to come back to Ha Noi !

Luân's opinion
I am trying my best to find less touristic and more authentic alternatives to these visits I think are essential in order to understand the richness of Vietnamese craftsmanship. Thus the villages I propose are often little known villages; it is then indispensable to have a guide with you.