Y accéder (Kon Tum)
| | | | | | | | |
| --- | --- | --- | --- | --- | --- | --- | --- |
| From : |   | | | | | | |
| Ha Noi : | 1200 km | 36h | 40h | - | - | 1h40 | - |
| Hue : | 450 km | 9h | 10h | 12h | - | - | - |
| Hoi An : | 350 km | 7h | 8h | 9h | - | - | - |
| Nha Trang : | 360 km | 7h | 8h | 9h | - | - | - |
| Sai Gon : | 580 km | 12h | 13h | 15h | - | - | - |
Y accéder (Plei Ku)



| | | | | | | | |
| --- | --- | --- | --- | --- | --- | --- | --- |
| Depuis : |   | | | | | | |
| Ha Noi : | 1300 km | 40h | 40h | - | - | 1h20 | - |
Geographic location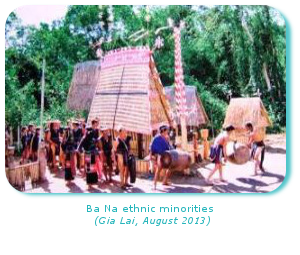 Located on lands in 500-1000m in altitude, the region called "Highlands of the Middle Part'' benefits from a more temperate climate. At the border of Cambodia, this coffee producer region is very isolated and difficult of access… Only few tourists venture there. These provinces have indeed been closed from 1975 to 1993, and are starting with difficulty to open to tourism…

Must-see and must-do activities
This area welcomes numerous minorities : the Jorais, the Ba Ne, the Ede…Some of the ''fence'' villages can be visited, but it may be difficult to enter into the lands and to witness authenticity…

How long should I stay?
It takes at least 3 days, 2 of which for transportation in order to access and leave the area.

Accommodations
Accommodation infrastructures are almost nonexistent.

Luân's opinion
It is always difficult to obtain authorizations to visit those regions. Thus, it is sensitive for an Agency to offer a tour in those regions, because trips can be canceled at the last minute! I do hope things will evolve rapidly because the region really is beautiful!