Access (Cam Pha)
| | | | | | | | |
| --- | --- | --- | --- | --- | --- | --- | --- |
| From : |   | | | | | | |
| Ha Noi : | 230 km | 5h | 6h | 6h | - | - | - |
| Mong Cai : | 170 km | 2h | 3h | 3h | - | - | - |
| Hai Phong : | 190 km | 4h | 5h | 5h | - | - | - |
Geographic location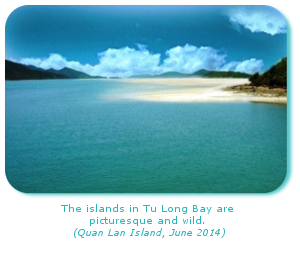 The ''Tu Long'' Bay is a very large bay 50 kilometers North from the Ha Long Bay. It spreads over a large part of the Quang Ninh Province. It is accessible by the small Van Don harbor of the city of Cam Pha.
It includes numerous islands, often of several kilometers square and all of them are either wild or little inhabited. The most visited island is the Quan Lan Island since it has the necessary infrastructures for the tourism development (electricity, water, telephone…).

Must-see and must-do activities
The Tu Long Bay offers a multitude of white thin sand beaches on the island and it is a location still not so touristy today.
However, its large spaced islands don't offer that stunning of a spectacle while on the cruise. The real interest is to dock on the Quan Lan Island for a day or two, to walk around the surroundings and to enjoy the nice beaches.
How long should I stay?
Allow three days leaving from Ha Noi in order to get a good overview of the Bay.

Accommodations
Night onboard or at the inhabitant's place on the Quan Lan island.

Luân's opinion
Tu Long is often compared as an alternative to its ''little sister'', the mythical Ha Long Bay. As a matter of fact, a lot of people sell tours with photos of Ha Long… Let's not be mistaken though, this alternative is made to avoid tourists, but the two Bays are very different. The large and spacious islands of Tu Long do not offer the same landscape and scenery of Ha Long!
For me, Tu Long is not an alternative to Ha Long, but rather a Bay of its own, with its charms and landscapes, complementary to Ha Long.