Access
| | | | | | | | |
| --- | --- | --- | --- | --- | --- | --- | --- |
| From : |   | | | | | | |
| Ha Noi : | 1400 km | - | 50h | - | - | 1h40 | - |
| Nha Trang : | 200 km | 4h | 5h | 6h | - | - | - |
| Da Lat : | 250 km | 5h | 6h | 7h | - | - | - |
| Sai Gon : | 400 km | 8h | 9h | 10h | - | 1h |   |

Geographic location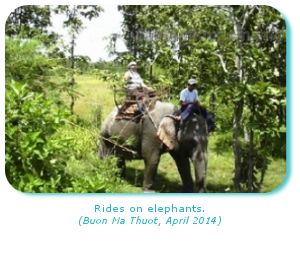 The region is South from the Highlands, less high in altitude than Da Lat or Kun Tum. The vegetation is luxurious and the region is famous for its abundant wild fauna: tigers, bears, monkeys, elephants. Unfortunately, only few wild animals remain, but the region has consequently sheltered numerous emperors' secondary residences who were very fond of hunting!
Must-see and must-do activities
All you need is simply walking around with a good tour guide in this isolated and authentic region: lakes, ethnic villages, pagodas, waterfalls, elephant rides…there is plenty to see and do!
How long should I stay?
2-3 days are sufficient.

Accommodations
You will find all types of accommodation: from the traditional stilts house at the inhabitant's to the charming hotel or even the big luxury resorts.

Luân's opinion
A very nice 2 to 3 day trip can be quite pleasant from Nha Trang in order to reach Sai Gon afterwards. This tour is quite atypical with landscapes you won't be able to witness anywhere else in Viet Nam… and the region is still not very touristic.