Access
| | | | | | | | |
| --- | --- | --- | --- | --- | --- | --- | --- |
| From : |   | | | | | | |
| Ha Noi : | 300 km | 7h | 9h | 10h | - | - | - |
| Cao Bang : | 500 km | 10h | 12h | 14h | - | - | - |
| Lao Cai : | 250 km | 5h | 7h | 8h | - | - | - |
Geographic location
A province located at the Chinese border. Ha Giang is one of the most beautiful cities in Viet Nam for its panorama and its ethnic minorities (the Tays, Nungs, H'Mongs…). Roads weave among a multitude of limestone eruptions punctuating the landscape the same way craters do on the moon. Isolated for a long time, this province remains of the most authentic and welcoming of the Country.
Must-see and must-do activities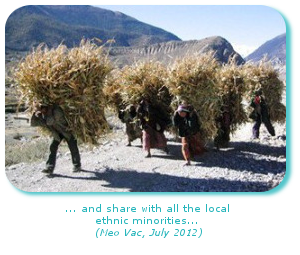 Tourist facilities in the province are still largely insufficient in order to welcome travelers in the most ideal conditions, Moreover, Ha Giang is still a closed Province and a ''permit'' is still to be asked from the head-office of the province in order to be able to go deeper in the lands.
This being so, the activities offered will mostly be promenades by car or by foot, with several marked stops in order to enjoy the view and panorama. Also, the visit of Ha Giang can only be done with a private car and so, to a certain cost…
Markets are also interesting centers where it is possible to meet the population and to buy local products.

How long should I stay?
Delivered permits and welcoming facilities do not allow long stays on site. It is better to arrive during late afternoon in Ha Giang, get the permits and leave for 24 or 48 hours inside the Province.

Accommodations
The town of Ha Giang has very decent hotels, but the hostelry in the Province is rather basic. It has small and clean hostels, but far from luxury!

Luân's opinion
For me, Ha Giang is a real crush in Viet Nam… Maybe because it is a town difficult of access where one still needs authorizations to access…so many parameters thus preserving its authenticity and its beautiful landscapes…