Access
| | | | | | | | |
| --- | --- | --- | --- | --- | --- | --- | --- |
| From : |   | | | | | | |
| Ha Noi : | 1800 km | - | 40h | - | 36h | 2h | - |
| Hai Phong : | 2150 km | - | 45h | - | - | 2h | - |
| Hue : | 1100 km | - | 26h | - | 20h | 1h10 | - |
| Da Nang : | 1000 km | 18h | 20h | - | 20h | 1h |   |
| Nha Trang : | 450 km | 9h | 10h | 12h | 8h | 1h | - |
| Mui Ne : | 210 km | 4h | 5h | 6h | 5h | - | - |
| Kon Tum : | 580 km | 12h | 13h | - | - | - | - |
| Buon Ma Tuot : | 400 km | 8h | 9h | 10h | - | 1h | - |
| Da lat : | 350 km | 7h | 8h | 10h | - | 1h | - |
| My Tho : | 70 km | 2h | 2h | 2h30 | - | - | - |
| Can Tho : | 250 km | 7h | 8h | 8h | - | 50mn | - |
| Cai Be : | 130 km | 2h30 | 3h | 4h | - | - | - |
| Vinh Long : | 140 km | 2h30 | 3h | 4h | - | - | - |
| Chau Doc : | 300 km | 6h | 7h | 8h | - | - | - |
| Rach Gia : | 250 km | 5h | 6h | 7h | - | - | - |

Geographic location
Sai Gon, its 8 million of inhabitants, its 4 million of motorbikes, will certainly leave you a particular taste… Nested in the loop of a river carrying the same name, located north from the Mekong Delta, this city is the true economic lung of the country. Often opposed to ''Ha Noi the traditional city'', Sai Gon embodies the Vietnamese modernity and the hope to make up for the economic backwardness of the Country due to numerous different wars. Admittedly, Sai Gon is not a megacity like Hong Kong or Bangkok, but the concentration of population and vehicles is such that one can be feeling quite suffocated during peak hours!

Must-see and must-do activities
It can be enjoyable to walk along the large avenues of the city and see the Post Office, the City Hall, the Cathedral, the Giac Lam or Giac Vien pagodas… The Cho Lon Chinatown and the Binh Tay market are also worth the detour…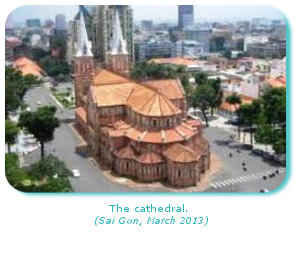 The only museum presenting a real interest is in my opinion the ''Museum of War Relics''. Naturally, one has to be fond of that particular period of history, but that museum introduces some beautiful shots of different photographers and opens a window on war barbarism… Be careful then, this is not something for the faint of heart!
One day can be planned for an out-of-town excursion, to visit the Cu Chi tunnels, formed by a large network of underground galleries where the Viet-Cong used to take shelter during the war. If you keep going towards the Tay Ninh Province, you will also be able to visit Caodaists temples. It is a real sect still including over a million members, the doctrine has tried to borrow what was pure in other religions: in this way they venerate Buddha, Jesus-Christ, Mahomet… The psychics of the sect only communicate with the other side and particularly with illustrious persons such as Victor Hugo, Joan of Arc, Shakespeare, Lenin…! I think you understood this is very very peculiar: but the daily noon ceremony open to public can be worth the detour!

How long should I stay?
Sai Gon is anyway a stopover city, at arrival, at departure, or for the visit of the Mekong Delta. You can stay there half a day to visit the city, and a whole day if you want to make an excursion to Cu Chi and Tay Ninh.

Accommodations
All types of hotels, from the small hostel to the great luxury hotel.

Luân's opinion
I think you understood I am not a big fan of Sai Gon… not traditional enough for my taste…