The markets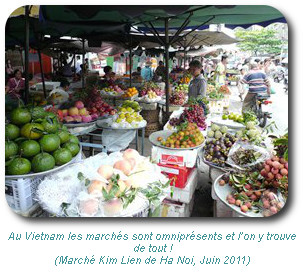 While in rural area weekly or bi-monthly markets are held in the heart of municipalities, in the cities they are numerous and daily. We can find anything in the Vietnamese markets: foodstuffs, cosmetics, pharmaceutical products, clothes, tableware, bric-a-brac shops, hardware stores… Hubs for socializing activities, those agoras are full of people during Vietnamese markets : early in the morning and sometimes in the evening (in the city). It is in the markets that you will find fresh products of higher quality. It is also in the markets that you will find the best quality-price ratio for your purchases!
In the North, those markets are real places of cultural encounters and exchanges. You can admire the colors of the Coc Ly or Bac Ha market in the area around Sapa. In Ha Noi, some markets are specialized in the selling of specific goods: walk around to admire the whole art of craftsmen in a particular trade!
In the South, there are a number of floating markets, where inhabitants come to trade onboard boats…
All kinds of sports…
In city area, Vietnamese people practice sports activities very regularly.
Every morning from 5.30 and every evening from 17.30, the pavements surrounding lakes and monuments, as well as numerous city parks become grounds locations for gathering and training.
While the mornings are more particularly reserved to ''awakening body'' activities such as Tai Chi or other stretching exercises, in the evenings men rather practice sports with reflexes and dynamism: badminton, volley-ball, soccer, jogging… Women generally gather together to walk, dance or practice fitness and rhythmic gymnastics to the sound of Vietnamese techno music…  
Outings and night life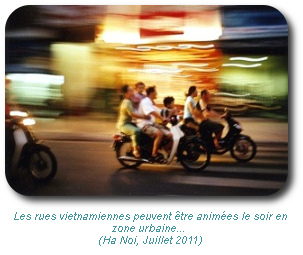 In the Vietnamese countryside, the evenings get generally shorten after diner: people go to sleep slightly after 9pm-9.30pm, after a beer or two among friends at the bia hoi (local pub) or in front of a television program.
In city area, the night comes later. There are more places to party, to be entertain, to encounter tourists and friends. The bia hoi are crowded every night and it is not uncommon that the streets are jammed around 10pm when the young Vietnamese people take a ''motorbike ride'' before heading to sleep…
In the city as well as in the country, the main distraction remains the karaoke. They are to be found everywhere and people start singing around 7pm with their friends. Those friendly places to hang out gather both the young and the less young for the pleasure of all.
Mass media and communications
The media are very present in Viet Nam, and particularly through the radio, the television and press:
The Vietnamese television is composed of 4 main channels, under the name of VTV. More and more cable channels, mostly Anglophones, are available. TV5Monde broadcasts in French. Moreover, every Province or big city has its own local channel!
Most of the Vietnamese press titles are never translated. However, a lot of Anglophones newspapers are sold in Viet Nam. You will also find Le courrier du Viet Nam a newspaper that reports local news in French.
Internet is rapidly developing in Viet Nam. Numerous houses are directly connected to the network in big cities, and numerous cyber coffee shops opened their doors. Even if the ADSL mention is displayed, the connection speeds there are often way lower. In the countryside, it is still rare nowadays to find places with internet connection.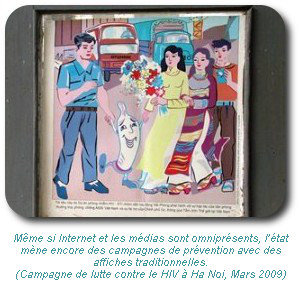 Communicating via postal mails is not the fastest way in Viet Nam. If you are sending postal cards, you have to count from two to three weeks of delivery to Europe from Ha Noi, sometimes a few days faster from Saigon.
Finally, in the city as well as in the countryside the telephony remains omnipresent. The land network is rather well developed in Viet Nam. However, reflected by Europe and the entire world, cell phones are in huge expansion. Mobile providers such as VIETTEL, MOBIPHONE and VINAPHONE cover the entire Country and operate with either monthly subscriptions or pre-paid and top-up cards. All you have to do is buy a SIM card in one of the numerous shops in the big cities, unlock your phone…and you can also choose your own number! International calls can be made from any land lines or in specialized shops (30 cents of euro is charged for a landline call and double for a cell phone call). All you need to do is type 0033 followed by the French number.
Civility and manners in Viet Nam
When going to a foreign country, we all have doubts about things we do or say that would make us look like rude or disrespectful towards the local culture… It is true that the Vietnamese tradition is quite ''heavy'' on that matter, but fear not, Vietnamese people are fully aware of that and are very comprehensive towards foreign tourists!
However, before your departure, I advise you to have a look at the Frequently Asked Questions where a certain number of rules are reminded…