Access
| | | | | | | | |
| --- | --- | --- | --- | --- | --- | --- | --- |
| From : |   | | | | | | |
| Ha Noi : | 1280 km | 36h | 30h | - | 22h | 1h40 | - |
| Da Nang : | 550 km | 11h | 12h | 15h | 10h | 1h10 | - |
| Da Lat : | 250 km | 5h | 6h | 7h | - | - | - |
| Sai Gon : | 250 km | 9h | 10h | 12h | 8h | 1h | - |

Geographic location
Halfway between Hoi An and Ho Chi Minh, Nha Trang is the most renowned coastal city for its bay, its thin white sand framed in coconut palm trees, its verdant islands and its soft Mediterranean weather. The town is an invitation to laziness and rest and is surrounded by mountains where the tropical forest is reclaiming its rights over civilization.

Must-see and must-do activities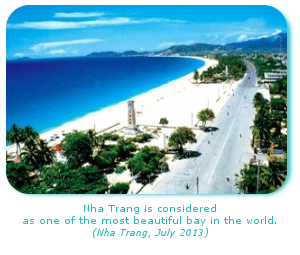 Marine activities are the most numerous in Nha Trang. The program includes: scuba diving, boat cruises, swimming, visiting the islands of the bay (Tam Mot, Ebena, Bamboos, Monkey Island…) or a walk in the old city, sanctuary of the local traditional culture. You will find there markets, pagodas and temples as well as a national museum of oceanography. It is also possible to get away a little from Nha Trang and to enjoy what the Cham culture can offer you. The site of Po Nagar, for example, is constituted of temples and columns where you can recognize Shiva and his spouse, the Bhagavati goddess, but also Po Ino Nagar, the mother Goddess of motherland.

How long should I stay?
Nha Trang may be paradisiacal for those who seek to sunbathe on a thin white sand beach but can also rapidly become a nightmare for the people wishing more than just a ''postcard'' landscape. Nha Trang can be a simple one day stop in your whole staying…

Accommodations
Like all the massively frequented places by tourists, you will find all types of accommodations according to your budget and your specific wishes…

Luân's opinion
Nha Trang, located in my opinion in one of the most beautiful bay of the country, could be compared to a big French seaside resort such as La Baule or La Grand Motte… The advantage is that city is rather well connected (airport) and that the sea activities are well developed. But why not the Whale Island, just in front and way more peaceful?