Access
| | | | | | | | |
| --- | --- | --- | --- | --- | --- | --- | --- |
| From : |   | | | | | | |
| Ha Noi : | 170 km | 3h30 | 4h | 5h | 6h | - | - |
| Ba Be : | 300 km | 7h | 8h | 10h | - | - | - |
| Mong Cai : | 400 km | 8h | 9h | 10h | - | - | - |
Geographic location
Lang Son is the administrative center of the province carrying the same name. It is one of the biggest cities in the North East Vietnam, by the Chinese border. Apart from the Chinese markets of craftsmanship with lesser quality products at very cheap prices, the town welcomes numerous ethnic minorities: the Tho, Nung, Dao and Man people.

Must-see and must-do activities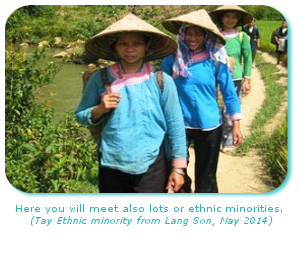 The town of Lang Son does not introduce any particular interest. Rebuilt in 1979 after the destructive invasion from China, it is renewing itself in a rural landscape. The town surroundings are particularly charming, alternating big rice fields and rocky peaks. Caves and pagodas are hidden all around the city, some of them have a religious or historical interest, such as the Pagoda of the Immortals (Chua Tien) or the Three Chambers cave (Gong Tam Tanh).
The small village of Mau Son, 25km away from the latter, also offers a stunning panorama: a breathtaking view over the land of China and the several surrounding Daos villages. You can also admire their French architecture hotels and taste the popular Ruou Mau Son, one of the most fruity rice alcohols in Viet Nam.

How long should I stay?
Lang son has to be considered as a stage town. I would advise you to spend half a day to visit Lang Son's surroundings and its Chinese markets, then one night in the capital before leaving the next day by either stopping at Mau Son or to some other destination.
Accommodations
In Lang Son, you will not be able to sleep over inhabitants' houses. The hostelry is classic and comfortable but does not fall in any ''luxury'' category.

Luân's opinion
One of the biggest advantages of Lang Son is that thanks to a new road, this town becomes the major point of the Chines border, and more generally of the Northern mountains, the closest from Ha Noi…